Immune Support, 120 v.c.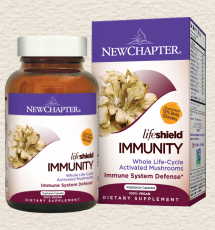 Immune Support, 120 v.c.
| | |
| --- | --- |
| SKU | NC127-120 |
| Brand | New Chapter Nutritional Supplements |
| Unit Size | 120 Veggie Caps |
| Dosage | Two capsules daily with food. Do not exceed suggested use. Not recommended for use in children. |
| Contraindications | As with any dietary supplement, you should advise your healthcare professional of the use of this product. If you are nursing, pregnant, or considering pregnancy, you should consult your healthcare professional prior to using this product. Discontinue use and contact your healthcare professional if you experience a side effect or an allergic reaction. Keep out of reach of children. |
Description

What is LifeShield Immune Support?

LifeShield Immune Support uses a blend of all organic mushrooms, including Reishi, Shiitake, Lion's Mane, Maitake, Poria, Turkey Tail, and Chaga. Our LifeShield products are created with all-organic and vegan mushrooms, and harness the full potential of the mushroom's protective benefits.

What does LifeShield Immune Support do?

Using the mycelium, extracellular compounds, fruiting bodies, and spores of our organic mushrooms, we've created a whole-food supplement to support your immune system, vitality, and overall wellness.* The species of mushrooms we use have been traditionally proven and scientifically researched for immune support.* LifeShield Immune Support takes each mushroom's whole protective shield to you in vegan capsules you take daily.

Certified Organic by International Certification Services, Inc., Medina, ND, U.S.A.

Ingredients

Supplement Facts
Amount per 2 Capsules
% Daily Value
Organic Reishi (Ganoderma lucidum; Ling zhi) (mycelium and fruiting bodies)
300
mg
•
Organic Shiitake (Lentinus edodes) (mycelium)
120
mg
•
Organic Lion's Mane (Hericium erinaceus) (mycelium and fruiting bodies)
120
mg
•
Organic Maitake (Grifola frondosa) (mycelium)
120
mg
•
Organic Poria (Wolfiporia cocos) (mycelium)
120
mg
•
Organic Turkey Tail (Trametes versicolor) (mycelium and fruiting bodies)
120
mg
•
Organic Chaga (Inonotus obliquus) (mycelium and scletoria)
120
mg
•
• Daily Value not established

Other ingredients: Capsule (pullulan [Aureobasidium pullulans], carrageenan, water and potassium chloride), organic ground rice hull and organic brown rice.

Gluten free; 100% vegan; no artificial flavors or colors.

100% USA-GROWN MUSHROOMS
There are no reviews, yet! If you've tried this item, share your experience.


Only registered customers can review items. Please sign in to review!
Please register/login first.