Culing Wan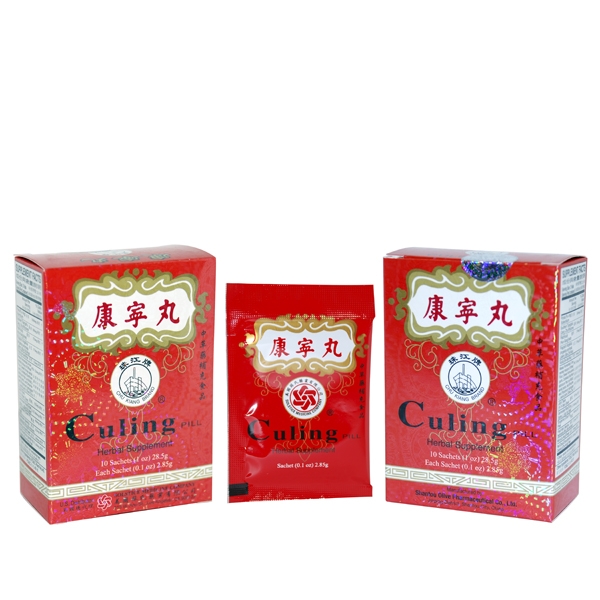 Culing Wan
| | |
| --- | --- |
| SKU | SOS106 |
| Brand | Yang Cheng Brand |
| Unit Size | Box of 10 Sachets 28.5g (each sachet 2.85 g) |
| Dosage | Take 1 - 2 Sachets, 4 times daily |
| Contraindications | Caution during pregnancy |
| Chinese Symptomology | Epigastric or abdominal bloating; Abdominal cramps; frontal headache; belching; hiccough; nausea; poor digestion; poor appetite; poorly formed stools; morning sickness; motion sickness; hyperacidity; overeating; hangover; stomach flu; food poisoning |
| Western Symptomology | Morning sickness; Motion sickness; Hyperacidity; Hangover; Food poisoning |
| Actions | Dispels food stasis, harmonizes the stomach, stems counterflow ascent of stomach qi, dispels damp, dispels pathogenic factors, subdues yang, relieves pain. |
| Pattern | Food stasis; Food stagnation; Food poisoning |
| Chinese name | Kang Ning Wan |
| English name | Curing Pill; Healthy Quiet Pill |
Description

Promotes the health of the immune system, the gastrointestinal system, and the inner ear. This product has long been known for its contribution to health and is used worldwide.*

Ingredients

Active Ingredients
Polyporus Sclerotium (fu ling), Southern Tsangshu Rhizome (cang zhu), Patchouly Herb (huo xiang), Fragrant Angelica Root (bai zhi), Kudzu Root (ge gen), Massa Fermentata (shen qu), Job's Tears Seed (yi yi ren), Germinated Rice Seed (gu ya), Tangerine Peel (chen pi), Field Mint Herb (bo he), Mum Flower (ju hua), Red Citrus Peel (chu hung).

Inactive Ingredients
Fd & C Red No. 40.
There are no reviews, yet! If you've tried this item, share your experience.


Only registered customers can review items. Please sign in to review!
Please register/login first.