SunFiber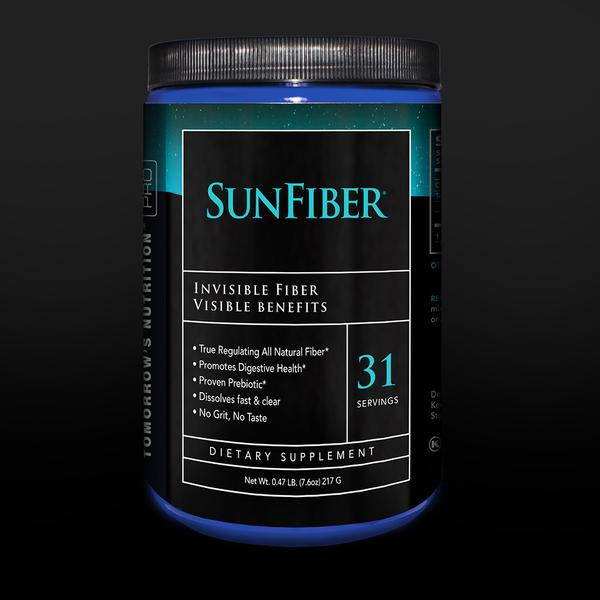 SunFiber
| | |
| --- | --- |
| SKU | TNP103 |
| Brand | Tomorrow's Nutrition Pro |
| Unit Size | 217g / 31 Servings |
| Dosage | As a dietary supplement, mix one level scoop (7.0 g) into 6 - 8 ounces of water, non-carbonated beverage or to recipes when cooking and baking. |
| Recommendations | |
Description

Tomorrow's Nutrition Sunfiber® delivers 6 grams of clinically proven, clear, grit free soluble fiber. A true regulating fiber, improves both conditions of occasional constipation and poor elimination as well as occasional diarrhea and loose stools. The result is regularity with healthy consistency.*

Tomorrow's Nutrition Sunfiber promotes intestinal and colon health, aids in the transit of food through the intestines, promotes the absorption of essential minerals and helps control the glycemic index of foods.*

Tomorrow's Nutrition Sunfiber dissolves fast and clear in your favorite begerage and won't alter the taste or texture of foods. Sunfiber may be added to recipes when cooking and baking. Simply stir in Sunfiber until dissolved.

Benefits of Sunfiber

Improves the absorption of essential minerals and remains stable at low pH levels.*

100% water soluble.

True regulating dietary fiber and prebiotic that maintains microflora balance.

Doesn't lead to the typical bloating, cramping and gas for which most fiber supplements are known.

Doesn't impact the flavor, color, texture or aroma of food or beverages it's added to, allowing it to be mixed with a variety of substances from juice and coffee to bakery products.

Provides solid regularity and fights occasional constipation without promoting diarrhea.*

Promotes superior absorption of magnesium and calcium, whereas other fiber supplements limit this.*

Controls blood sugar levels to help those with glucose intolerance or diabetics.*

Combats increased blood glucose levels through the manipulation of the glycemic index of foods.*

Ingredients

Sunfiber® Guar Fiber (PHGG) 7g
OTHER INGREDIENTS: None.
There are no reviews, yet! If you've tried this item, share your experience.


Only registered customers can review items. Please sign in to review!
Please register/login first.