Regeneration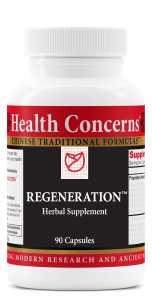 Regeneration
SKU
HC206
Brand
Health Concerns
Unit Size
90 capsules, 650 mg
Dosage
2 capsules, TID, between meal
Potency
not disclosed - unknown
Chinese Symptomology
Strengthens the Body, Stops Pain, Clears Cancer Toxin, Harmonizes the Yin and Yang
Actions
1. Contains herbs thought to have anti-tumor effects based on Chinese research. Thus, this formula may be used as an adjunct to western cancer therapies. 2. Strengthens the immune system. 3. Reduces pain.
Recommendations

Health Concerns Clinical Handbook PDF

Note: Health Concerns is converting all formulas from tablets to capsules. Our inventory will reflect both until the conversion is complete.
| | |
| --- | --- |
| Description | Cancer can affect various organs and tissues. Many cancers are treatable in the early stages. Standard medical interventions include surgery, chemotherapy, and radiotherapy. Herbs can also be used to fight cancer, and serve four purposes: they neutralize the cancer toxin; reduce the tumor(s); strengthen and balance the body to enable it to combat the disease; and reduce pain. Practitioners should inform patients the persistence in and adherence to therapy required when using herbs to address cancer. In this formula, the chief herb is kirin ginseng (ji lin shen), which tonifies the lung and augments the Qi, strengthens the spleen/stomach, generates fluids, and benefits heart qi. The overall effect of this herb, therefore, is to strengthen the body (immune system) in order to fight the cancer. Tang kuei (dang gui) invigorates and tonifies the blood and can be used for cancers that arise due to Qi and blood stasis; this herb has also been found in vitro to have anti-tumor effects. Tienchi (san qi) scatters stasis in order to alleviate swelling and pain. Qin jiao is another herb that helps stop pain. Gentiana (long dan cao) is added to this formula to clear heat, especially of the liver, since cancer growth often leads to the production of heat. Scute (huang qin) clears heat and dries dampness, and drains heat to accumulation of damp-heat toxin. Persica (tao ren) invigorates the blood and dispels stasis; thus in cancer cases, it addresses tumors that are due to protracted blood and dispels stasis that leads to accumulation of fire; additionally, in vitro studies have found persica to possess anti-cancer effects. |
| Ingredients | Gentian root (qin jiao), Asian Ginseng root* (ren shen), Dong Quai root (dang gui), Bupleurum root* (chai hu), Turmeric root* (yu jin), Tienchi Ginseng root* (san qi), Chinese Skullcap root* (huang qin), Peach seed* (tao ren), Chinese Peony root* (chi shao); *extract |
There are no reviews, yet! If you've tried this item, share your experience.


Only registered customers can review items. Please sign in to review!
Please register/login first.