3A Calcium Ultra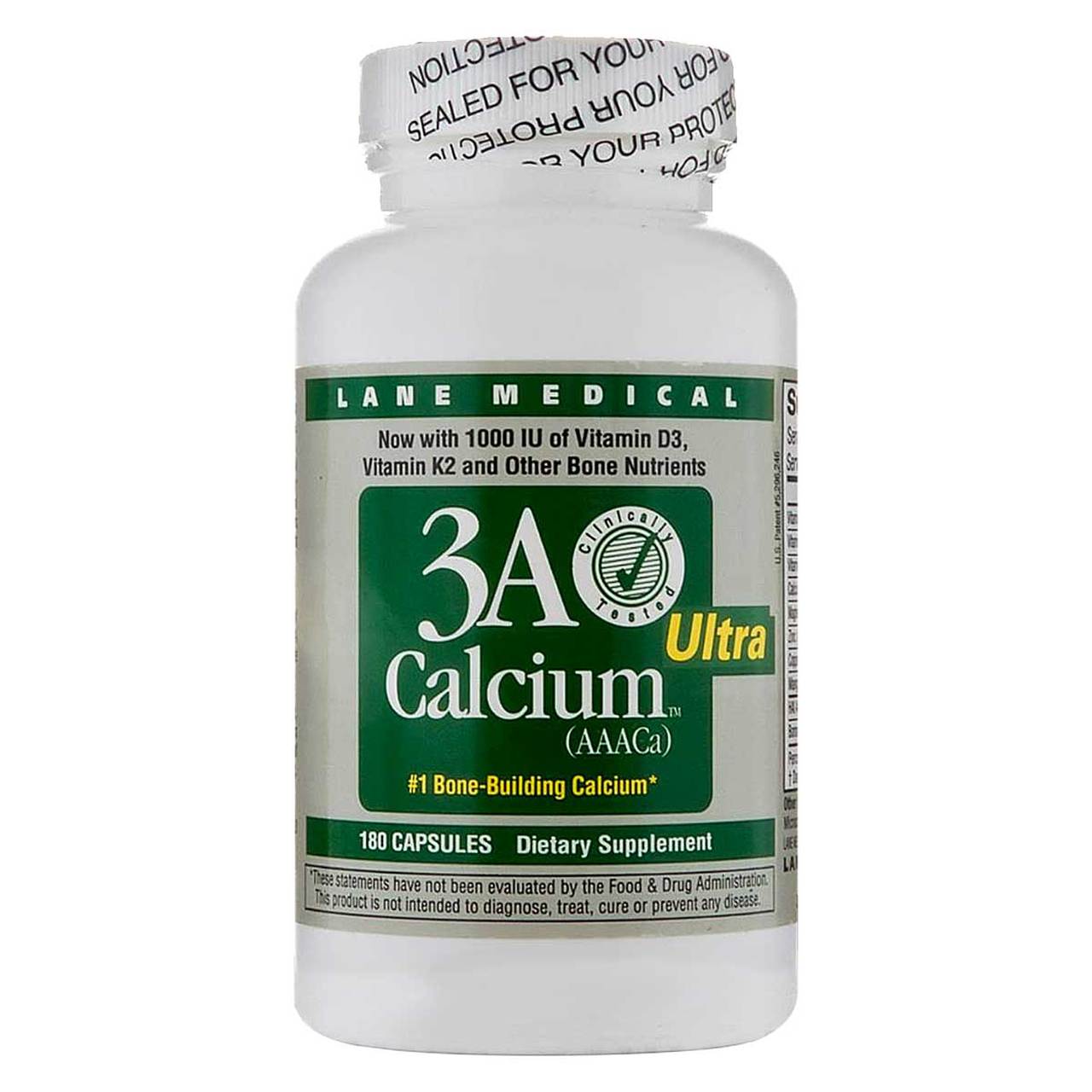 3A Calcium Ultra
| | |
| --- | --- |
| SKU | LL102 |
| Brand | Lane Labs |
| Unit Size | 180 capsules |
| Dosage | Three small capsules of 3A Calcium or 3A Calcium Ultra twice daily provide 1000mg of elemental calcium. |
| Western Symptomology | Osteoporosis; Bone Loss; |
| Recommendations | |
| English name | 3A Calcium Ultra |
Description

The #1 Bone Building Calcium Plus 7 Bone Nutrients and Vitamin D ~ 3A Calcium plus vitamin C, vitamin D, magnesium, zinc, copper, manganese, silica and boron

3A Calcium Ultra provides natural coverage from bone density health' together with extra vitamin and mineral support meant to work towards healthier bones.

Vitamins and minerals like vitamin C' vitamin D3' vitamin K2' magnesium' zinc' copper' and manganese are all included as bone promoters' and to avoid deficiency which can derail absorption capabilities. They help to supplement the 500 mg source of calcium found in 3A Calcium Ultra' comprised of calcium hydroxide and calcium oxide sources.

Also found alongside the ingredient list of this product is HAI (heated algal ingredient)' which is an amino acid complex that derives from super heated hijiki seaweed. While the extract found in 3A Calcium Ultra looks minimal' the properties taken from the super-heated process make the mere presence of HAI a potent addition to the nutrient lineup of this supplement.

Ingredients

Each 3 capsules contain: Vitamin C (as Ascorbic Acid) - 100mg; Calcium (as Calcium Hydroxide and Calcium Oxide) - 500mg; Vitamin D3 (Cholecalciferol) - 200IU; Magnesium (as Magnesium Oxide and Citrate) - 300mg; Zinc (as Zinc Monomethionate) - 6mg; Copper (as Copper Citrate) - 1mg; Manganese (as Manganese Sulfate) - 2mg; HAI Amino Acid Extract (from Sea Algae) - <1mg; Silica (as Silica Dioxide) - 90mg; Boron (as boron citrate, aspartate, and glycinate) - 2mg; Other ingredients: Citric Acid, Croscarmellose Sodium, Crosprovidone, Gelatin, Magnesium Stearate, Stearic Acid.
There are no reviews, yet! If you've tried this item, share your experience.


Only registered customers can review items. Please sign in to review!
Please register/login first.