Methyl Factors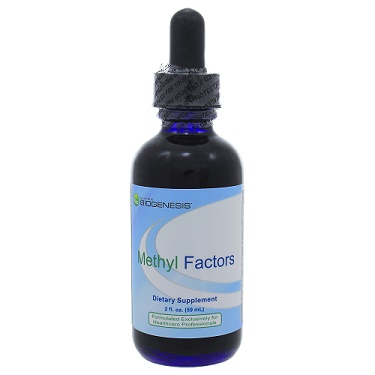 Methyl Factors
| | |
| --- | --- |
| SKU | BG145 |
| Brand | BioGenesis Nutraceuticals |
| Unit Size | 2 fl oz |
| Dosage | Use only as directed. Take 15 drops daily or as directed by your healthcare practitioner. Shake before use. |
| English name | Methyl Factors |
Description

A UNIQUE LIQUID FORMULA OF DIETARY METHYLATION COFACTORS

- Supports optimal homocysteine levels for cardiovascular health*
- Helps maintain proper neurological function*
- Nutritional support for normal erythropoiesis*

METHYL FACTORS provides therapeutic doses of vitamins B6, B12, and folate in a highly absorbable liquid formula. These essential B vitamins support proper endogenous methylation activity as well as healthy production of red blood cells, neurotransmitters, hormones, and nucleic acids. The compound homocysteine occurs as a byproduct of the series of B12/B6/folate-dependent methylation reactions involved in methionine/cysteine metabolism. Elevated levels of homocysteine have been associated with cardiovascular risk through believed promotion of atherosclerotic plaque development and enhanced blood clotting activity. In clinical trials, supplementation with the involved B vitamins has been shown to reduce circulating homocysteine levels and therefore support cardiovascular health.*

Ingredients

Supplement Facts

Serving size: 15 drops (1ml)

Servings per container: 60

---

| | | |
| --- | --- | --- |
| | Amount per Serving | % Daily Value |
| Vitamin B6 (from pyridoxal 5-phosphate monohydrate) | 10mg | 500% |
| Folate (from folic acid, [6S]-5-methyltetrahydrofolic acid [glucosamine salt] | 400mcg | 100% |
| Vitamin B12 (from methylcobalamin) | 2500mcg | 41,667% |

Other Ingredients: purified water, vegetable glycerin, xylitol, natural cherry flavor with other natural flavors, xanthan gum, stevia leaf extract, citric acid, potassium sorbate.

Refrigerate after opening and consume promptly.
There are no reviews, yet! If you've tried this item, share your experience.


Only registered customers can review items. Please sign in to review!
Please register/login first.