Homocysteine Factors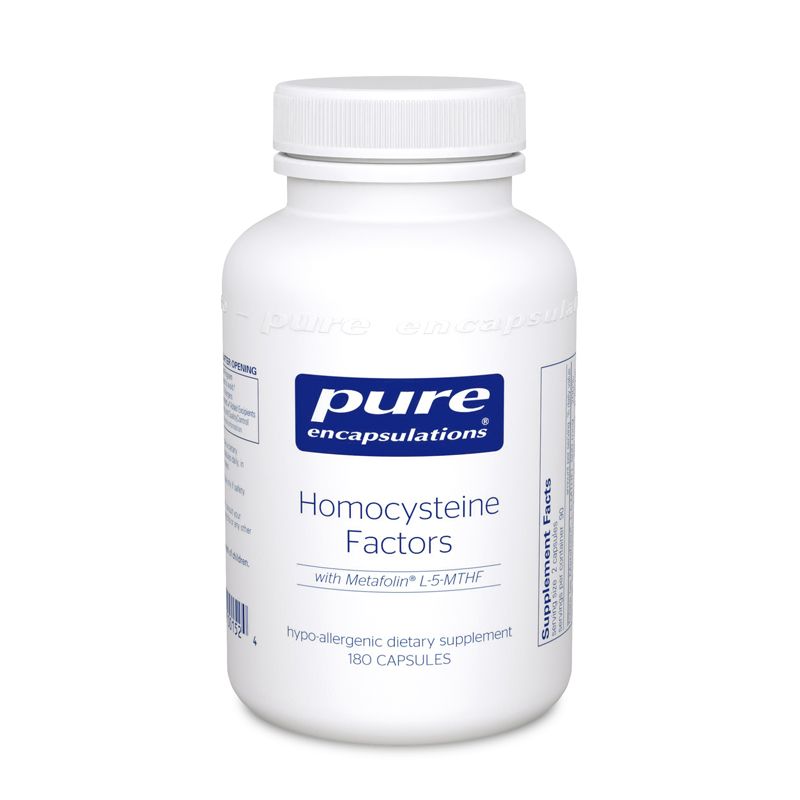 Homocysteine Factors
| | |
| --- | --- |
| SKU | P223-180 |
| Brand | Pure Encapsulations |
| Unit Size | 180 capsules |
| Dosage | 1 capsule, 2 times daily, with meals. |
| Recommendations | Also available in 60 capsule size |
| English name | Homocysteine Factors |
Description

Supports cardiovascular health*
Made with hypoallergenic, vegan ingredients

Homocysteine Factors is a blend of vitamins and other nutrients that help maintain normal homocysteine levels and promote cardiovascular health.*

Certified Gluten-Free by the Gluten-Free Certification Organization, www.gluten.org‡

Gluten Free

GMO Free

Vegan

Vegeta

Ingredients

Supplement Facts

Amount Per Serving

Each (size 00) vegetarian capsule contains:

Vitamin B6 (as pyridoxal 5' phosphate) (activated B6) 25 mg

Folate (as Metafolin®, L-5-MTHF)667 mcg DFE (400 mcg L-5-MTHF)

Vitamin B12 (as methylcobalamin) 200 mcg

Trimethylglycine (anhydrous betaine) 500 mg

Other ingredients: vegetarian capsule (cellulose, water), hypoallergenic plant fiber (cellulose), ascorbyl palmitate

Metafolin® is a registered trademark of Merck KGaA, Darmstadt, Germany.

This formula requires refrigeration after opening.
There are no reviews, yet! If you've tried this item, share your experience.


Only registered customers can review items. Please sign in to review!
Please register/login first.