Relaxing Tea (Organic), 1lb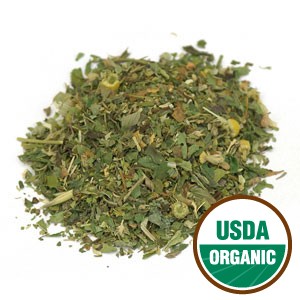 Relaxing Tea (Organic), 1lb
| | |
| --- | --- |
| SKU | STAR102 |
| Brand | Starwest Botanicals |
| Unit Size | 1lb |
| Dosage | Daily serving size: Pour 8-12 oz of boiling water (212° F) over 1 tsp. of tea. Steep 3-4 minutes. |
| Recommendations | Product will ship FedEx Ground, even if Expedited is selected. Call for expedited shipping rates. |
Description

A peaceful combination of soothing herbs which is perfect at the end of a long day to help relax one's mind and body. It is a mild-bodied tea with a prominent minty flavor and aroma which comes from the peppermint and spearmint, along with a delicate floral taste from the chamomile. Caffeine-Free.

Packaging: To preserve freshness, aroma, and potency, our 1 lb loose teas are packaged in a polyfoil bag with a re-sealable zipper closure, protecting the contents from light exposure and moisture.

Ingredients

Organic catnip leaf, organic scullcap herb, organic chamomile flower, organic lemon balm leaf, organic peppermint leaf, organic spearmint leaf, and organic oatstraw.
There are no reviews, yet! If you've tried this item, share your experience.


Only registered customers can review items. Please sign in to review!
Please register/login first.