Propolis Spray 1oz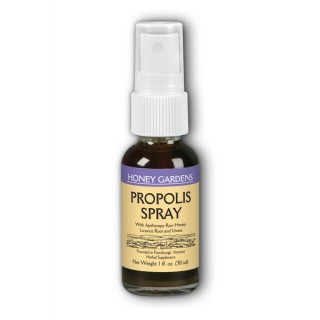 Propolis Spray 1oz
| | |
| --- | --- |
| SKU | HG126 |
| Brand | Honey Gardens |
| Unit Size | 1oz |
| Dosage | Use one spray as needed 2 - 5 times per day. |
| Contraindications | Consult health care professional regarding use during pregnancy or lactation. |
| CAUTION | Keep your licensed health care practitioner informed when using this product. Not for use by children under 1 year of age. Avoid spraying in eyes. Bee products may cause an allergic reaction in some people. |
Description
We use the synergy of raw honey, propolis, licorice root and Usnea (a lichen) in this spray for maximum effectiveness. Propolis is a resin that honey bees gather from pine and poplar trees which is used to coat the inside of the bee hive to maintain a sterile environment. Naturally containing flavonoids, propolis is intended to help provide nutritive support for a healthy immune system.
Ingredients

Supplement Facts

Serving Size: 3 Sprays

Servings per Container: 50

Amount Per Serving
% Daily Value
Proprietary (US Grade A Raw Honey, Propolis Licorice Root and Usnea Lichen)
0.6 mL

Other Ingredients: Pure Grain Alcohol and Water.
There are no reviews, yet! If you've tried this item, share your experience.


Only registered customers can review items. Please sign in to review!
Please register/login first.