OHM Only Healing Minerals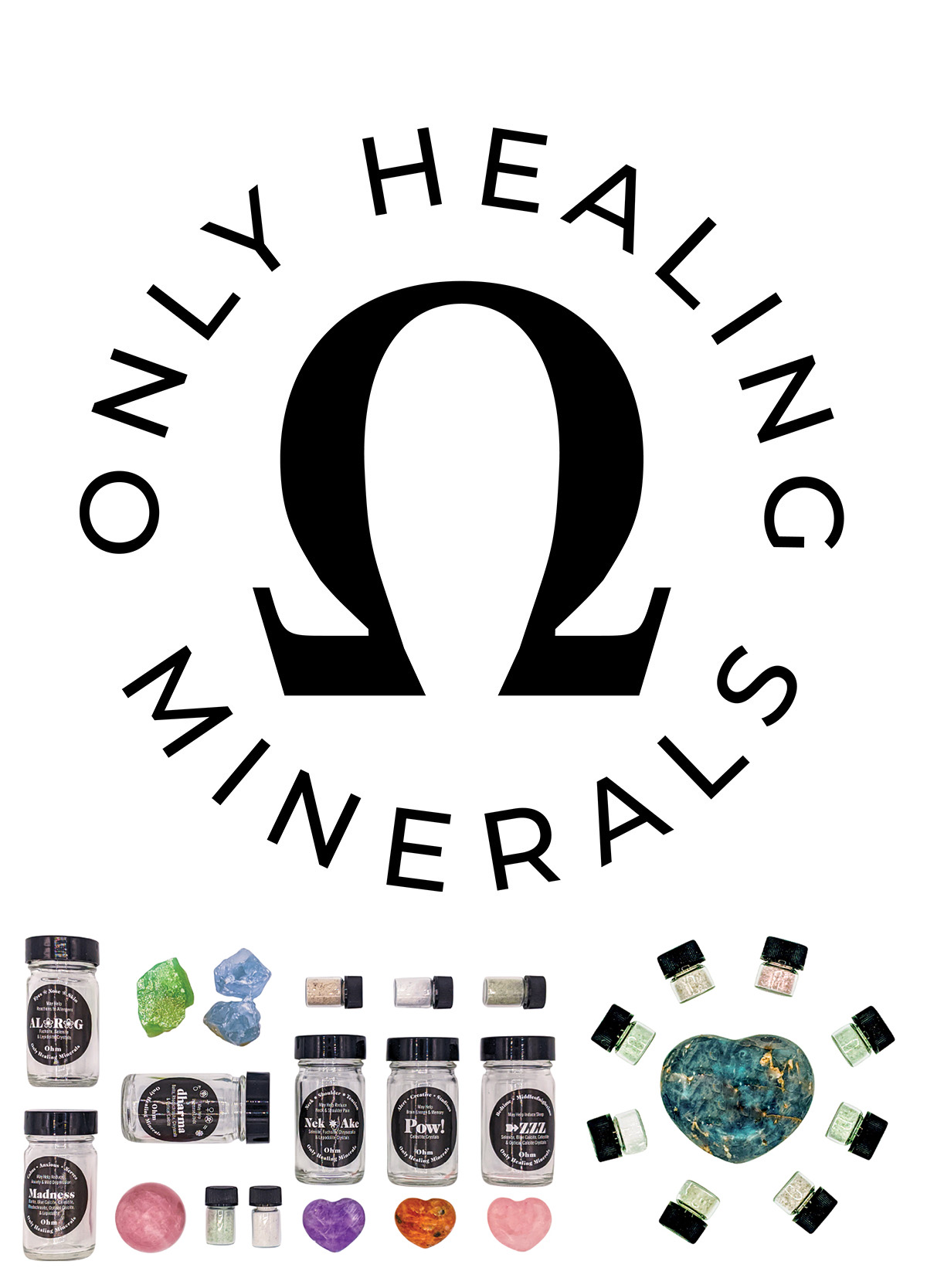 Just like ancient practitioners for thousands of years, Ohm uses the theories of Mineral Medicine for humans and animals. OHM reduces pure crystal minerals to powder and formulates a balanced solution to create holistic healing products. Using the natural vibration of minerals and the skin's ability to absorb micronutrients their formulas affect the body into optimum health. The science behind Mineral vibration is simple, atoms in a mineral's crystal structure bump into one another, in a unique frequency, creating an individual vibration. These vibrational frequencies, held against the skin affect the body in a holistic and healthy manner. Each mineral's vibration affects the body in an exclusive way.
Minerals and crystals are one in the same. Crystals are actually beautiful, well-formed pure minerals. Crystals are typically thought of as "metaphysical" and minerals a "supplement for health", explaining both as one can be difficult. Crystal practitioners and enthusiasts understand the difficulties in working with whole rock specimens. Difficulties in bulkiness when in combination and the lack of ability to proportion each mineral makes using "grouped vibration" challenging at best. Blending multiple mineral powders together, as Mother Nature does in mineral water, Ohm creates a melange of vibrational and micronutrient therapies overcoming these challenges. Ohm combines the laws of science and healing theories in our Mineral Medicine.
In search of vitality, their founder, Ruth Findlay, has personally experienced the therapeutic power of mineral springs and thermal baths. The therapies at these spas are referred to as "Balneotherapy", the medicinal treatment of disease by mineral water. After much research of the worlds healthiest waters, she found Germany and Saratoga Springs NY topped the list. As her visits to these baths became more frequent, the more vital and stronger she became. Recognizing this need for everyone, she created Ohm, Only Healing Minerals. Ohm's process of Mineral Medicine, makes the difference in strength, stamina and vitality.
Ruth is a Geochemist by education and for many years she has studied the theories of ancient eastern medical practices with the guidance of Dr. Heiner Fruehauf. Understanding a crystal mineral's structure and it's chemical composition, she combined the use of these individual vibrational effects on Meridians and the body. Not usually recognized or debunked in scientific circles, is mineral vibration. Atoms in each mineral's crystal structure bump together, in a certain frequency, creating an unique vibration. With the education Dr. Fruehauf provided, Ruth combined these vibrations and the skin's ability to absorb micronutrients in a certain way to reboot the body's health and vitality. Ohm's Mineral Medicine began as Ruth created the Ohm mineral blends.
Applying theories of ancient eastern medical practices of using minerals as healing tools, Ruth created Ohm baths and topical formulas. She found, like acupuncture, raising, toning, draining organs with these minerals many common health issues can be resolved in a non oral format. The combination of these unique mineral vibrations along with the skin absorbing the micronutrients allows for a targeted application.