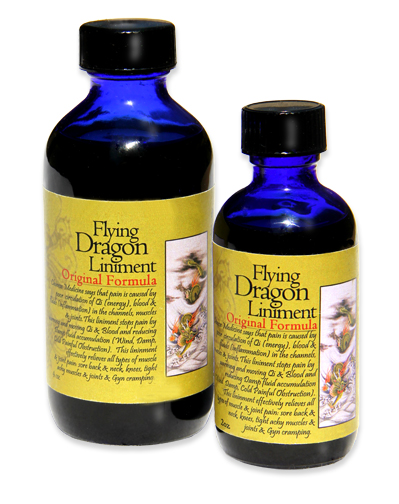 Artisan Oil – Made in USA
Handmade by herbalist in Grass Valley, California with lots of TLC. We began making this liniment in 2002.
Traditional Chinese Medical (TCM) theory states that pain is caused by Qi (energy) and Blood not moving in the channels and muscle tissue. The herbs in this liniment are formulated to stop pain by warming and moving Qi and Blood in the affected area.
Eco-friendly - green product: Made with organic oils and many wild-crafted herbs. Preservative & sulfite free. Packaged in a glass bottle. Energetically tested by kinesiologist, medical intuitive and energy worker who all say Its great. I have tested Flying Dragon Liniment in my clinic for many years and can tell you with certainty that Patients Love It. I firmly believe that Flying Dragon Liniment should be in everybodys medicine cabinet, along side the aspirin and the box of band aids. Believe me, of the 3, Flying Dragon Liniment will get used the most. After using this liniment and seeing how effective it is at stopping pain, you wont want to be caught without a bottle readily on hand. Kath Bartlett, Product Formulator, Licensed Acupuncturist and Traditional Chinese Herbalist