Finest Pure Fish Oil Capsules, 180 capsules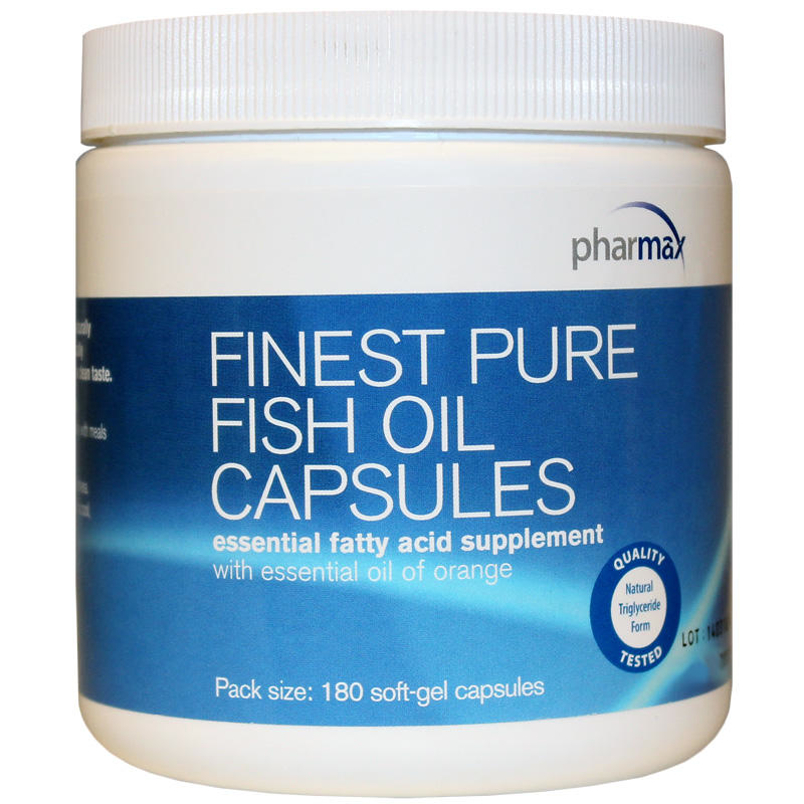 Finest Pure Fish Oil Capsules, 180 capsules
| | |
| --- | --- |
| SKU | PX133-180 |
| Brand | Pharmax |
| Unit Size | 180 Vegetarian Capsules |
| Dosage | Two capsules taken twice daily with meals. |
Description

Supports cardiovascular health and cognitive function with an EPA:DHA ratio of 1.4:1*
• Supports healthy serum triglyceride levels already in the normal range*
• Promotes cardiovascular health in adults*
• Supports cognitive health, brain function, and the development of the brain, eyes, and nerves in adolescents*
• Utilizes the proprietary NEO-3™ processing technique to enrich EPA and DHA
• Provides 524 mg of EPA and 375 mg of DHA per serving

Finest Pure Fish Oil Capsules contain a mixture of sardine and anchovy fish oils provided in an EPA:DHA ratio of 1.4:1, which helps to support already healthy serum triglyceride levels. Research indicates that fish oil supplementation providing DHA may support brain health and cognitive function. DHA may assist in the development of brain, eye, and nerve tissue in children up to 12 years of age.*

Ingredients

Supplement Facts
2 capsules contain:
Calories 20
---Calories from fat 20
Total fat 2.5g
Cholesterol 20mg
Eicosapentaenoic acid (EPA) 524mg
Docosahexaenoic acid (DHA) 375mg
Total Omega-3 1,124mg
---(DHA, EPA and other omega-3s provided as sardine and anchovy oil)
Other Ingredients: essential oil of orange, natural mixed tocopherols.
Capsule: fish gelatin, glycerol.
There are no reviews, yet! If you've tried this item, share your experience.


Only registered customers can review items. Please sign in to review!
Please register/login first.