Eww-Warts - Topical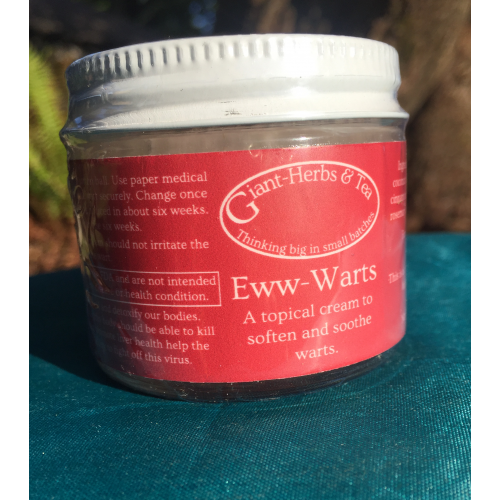 Description

Eww-Warts is a topical cream made from organic, virgin, unrefined coconut oil and essential oils.

Warts are a common problem which are essentially benign, but ugly. We don't like them as a society, and they are difficult to remove. In the past, they used to be frozen off using liquid nitrogen, nowdays, the surgical procedure is usually to apply a topical anesthetic and cut out the root of the wart. Different people have come up with other strategies such as applying apple cider vinegar or other substances topically to the wart. In our experience, all of these methods are somewhat painful. Most acid type products, such as vinegar or caustic essential oils, while they do help the wart, end up eating away the healthy skin as much as they do the virus containing skin. This leaves the skin feeling painful, irritated, or worse as an open wound. Depending on where the wart is located, this process can be extremely painful.

We wanted to find a method which didn't damage the surrounding skin, while helping to soften and sooth the irritation of warts.

Ingredients

Organic virgin coconut oil, carthamus, tea tree, cinnamon, frankincense, oregano, rosemary, and other essential oils.
There are no reviews, yet! If you've tried this item, share your experience.


Only registered customers can review items. Please sign in to review!
Please register/login first.