Wobenzym PS, 180 tablets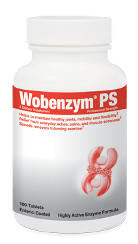 Wobenzym PS, 180 tablets
| | |
| --- | --- |
| SKU | W100-180 |
| Brand | Wobenzym |
| Unit Size | 180 tablets |
| Dosage | Take three (3) tablets, two (2) times daily, at least 45 minutes before meals or as recommended by your healthcare professional |
| Contraindications | if you are pregnant or breast feeding, suffer from bleeding disorder or liver damage, or if you are taking anticoagulant drugs (such as warfarin), consult a healthcare professional before using this product. |
| Western Symptomology | sports injury |
| Recommendations | Download the Product Information Sheet |
Description

• Helps to maintain health joints, mobility and flexibility*

• Relief from everyday aches, pains and muscle soreness*

• Speeds recovery following exertion*

• Supported by over 200 clinical trials

In the human body, hundreds of chemical reactions occur during the course of the normal metabolic processes. Many chemical reactions require significant energy in order to take place and therefore need a catalyst to allow the reaction to proceed. The catalyst acts to lower the energy needed for the reaction to move forward. In the body, enzymes play the role of the catalyst and allow reactions to take place that otherwise would not occur. The enzyme itself is not consumed in this process and can be utilized again and again. Enzymes are relatively unique to each reaction and different enzymes will catalyze different reactions. Certain combinations of specific enzymes, when properly protected from stomach acid, provide systemic enzyme support. The international literature reveals that systemic enzyme support is an effective modality for immunomodulation and for support of circulatory, lymphatic, cardiac, neurological, endocrinological, reproductive, liver, bone, joint, muscle, kidney and other tissue function.*

Wobenzym® PS is a systemic enzyme formulation that contains a unique blend of enzymes from both plants and animals that have been clinically studied for supporting numerous processes in the body.*

Systemic enzyme supplements work directly in the body after they are absorbed in the small intestine and are not intended to aid in digestion. Consequently, these enzymes can be utilized to assist the body's various regulatory and communication systems.*

Ingredients

Three (3) Tablets Contain:

Bromelain - 270mg (1,350 FIP-unit)

Ananas comosus

Trypsin - 144mg (4,320 FIP-unit)

(pancreas) Sus scrofa

Rutoside trihydrate - 300mg (Rutin)

Sophora japonica

Other Ingredients: Calcium phosphate, microcrystalline cellulose, silica, vegetable stearate, pH resistant enteric coating, magnesium silicate, natiural vanilla flavoring, purified water.
There are no reviews, yet! If you've tried this item, share your experience.


Only registered customers can review items. Please sign in to review!
Please register/login first.