Tzepao Sanpien Wan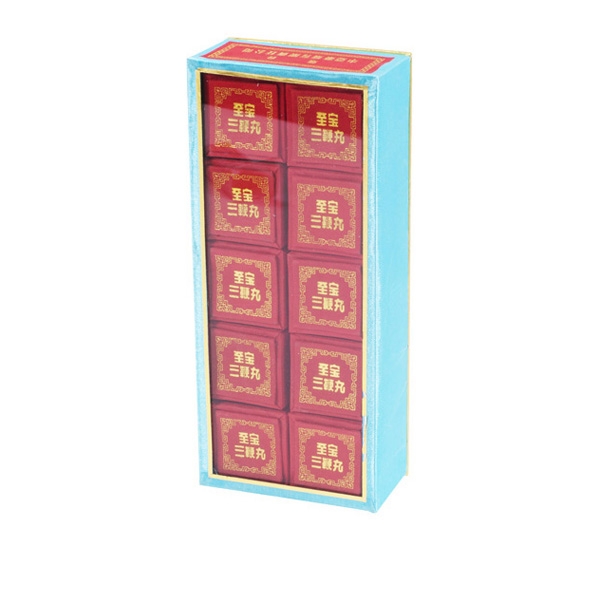 Tzepao Sanpien Wan
| | |
| --- | --- |
| SKU | SOS111 |
| Brand | Miscellaneous Chinese Formulations |
| Unit Size | 10 pills per box |
| Dosage | Take 1 pill, 1 x day. Chew, or cut and form into smaller pieces and swallow. May also be crushed and dissolved in water |
| Contraindications | Not recommended for male sexual dysfunction due to depletion of kidney yin. Discontinue during colds and flu, as tonics tend to drive pathogenic factor into the interior |
| Actions | Tonifies kidney yang, tonifies ying and wei gi, benefits jing, tonifies blood. |
| Pattern | Kidney qi deficiency; Yang deficiency; Jing deficiency; Qi deficiency |
| Chinese name | 山東至寶三鞭丸 (小蜜丸)(十丸裝) |
| English name | Priceless Treasure Three |
Description

This formula is popular as a general tonic for aging men and women in China.* (Fradkin - Chinese Herbal Patent Medicines)

Ingredients

Active Ingredients
Oriental Ginseng Root, Astragalus Root, Dong-quai Root, Rehmannia Root, Chinese Dodder Seeds, Lycium Berries, Fennel Fruit, Zanthoxylum Piperitum D.C., Morinda Fruit, Asiatic Dogwood Fruit, Polyporus Fungal Body, Scurfy-Pea Fruit, Achyranthes Root, Chinese Yam Root, Epimedium Herb, Eucommia Bark, Cinnamon Bark, Moutan Bark, Raspberry Fruit, Fo-ti Root, Anemarrhena Rhizome, Atractylodes Rhizome, Alisma Rhizome, Polygala Root, White Peony Root, Anemone Rhizome, Honey.

Inactive Ingredients
Water.
There are no reviews, yet! If you've tried this item, share your experience.


Only registered customers can review items. Please sign in to review!
Please register/login first.