Stress & Strain Ocular Formula, 60 caps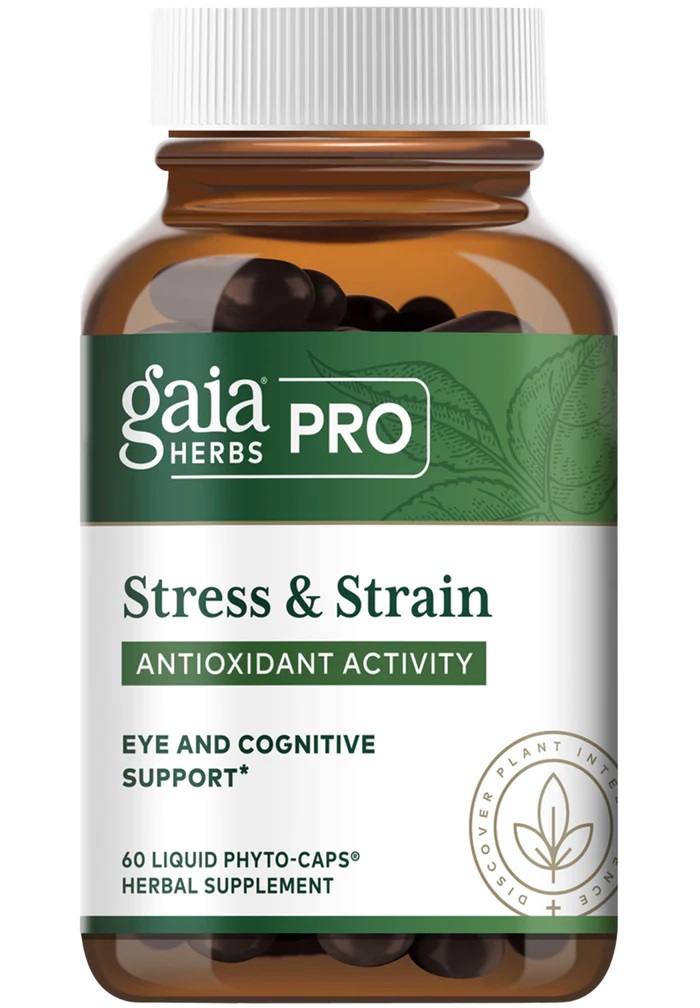 Stress & Strain Ocular Formula, 60 caps
| | |
| --- | --- |
| SKU | G120 |
| Brand | Gaia Herbs |
| Unit Size | 60 liquid-filled vegetable capsules |
| Dosage | Take 1 capsule 2 times daily with meals or as directed by your health care provider. |
| Contraindications | Not recommended during pregnancy or lactation. |
| English name | Ocular Formula Phyto-caps |
Description

Gaia Herbs Professional Solutions Stress & Strain Antioxidant Activity (Formerly Ocular Formula) promotes healthy vision. Our eyes rely on antioxidants to protect against the oxidative damage that occurs daily.

Ocular Formula, promotes healthy vision while supporting normal eye function. With naturally occurring antioxidants such as Anthocyanins from Bilberry, Proanthocyanidins from Grape seed, and Carotenoids like Lutein and Astaxanthin, Ocular Formula is a nutritional powerhouse for the eyes.

Ingredients

Serving Size: 1 Capsule

Amount Per Serving ... % Daily Value

Total Carbohydrate ... <1 g ... <1% ... *

Marigold flowers supercritical ... 140 mg ... †
CO2 extract

Lutein ... 5 mg ... †

Proprietary Extract Blend ... 36 mg ... †
Bilberry (Vaccinium myrtillus) berry extract, Grape (Vitis vinifera) seed extract, Astaxanthin (from microalgae)

* Percent Daily Values are based on a 2,000 calorie diet.

† Daily Value not established.

Other Ingredients:

Vegetable glycerin and vegan capsule (hypromellose, chlorophyll).

Suggested Use/Recommendations:

Adults take 1 capsule 2 times daily with meals.
There are no reviews, yet! If you've tried this item, share your experience.


Only registered customers can review items. Please sign in to review!
Please register/login first.