LiverVital, 60ct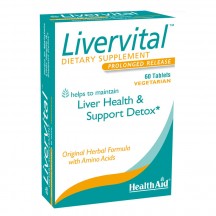 LiverVital, 60ct
| | |
| --- | --- |
| SKU | HA109 |
| Brand | Health Aid |
| Unit Size | 60 Tablets |
| Dosage | As a dietary supplement take four (4) tablets daily, or as directed by a healthcare professional. |
| English name | LiverVital |
Description

LiverVital™ helps to maintain liver health.* Weighing about 4lbs, the liver is the largest glandular organ of the body and has many functions to keep your system working optimally. The key herb in LiverVital™ is milk thistle, which is known for its role to help support the liver.* LiverVital™ combines herbs and amino acids; these include Dandelion, Barberry, Turmeric, Artichoke, Methionine, Choline, Inositol and Taurine to support the liver. * These provide specific actions on the body to help cleanse and purify the blood that enters the liver* and supports overall liver function.*

What is in LiverVital™?

LiverVital™ contains milk thistle plus other key ingredients which help to support liver health.*

Milk Thistle helps by acting on the cell membranes of the liver to stabilize and strengthen the structure of the walls.* It encourages the liver cells to re-generate and replenish liver cell tissue.*
Dandelion Root plays a role in supporting the kidneys* and maintaining liver health.*
Barberry root encourages bile production,* which minimizes the build up of toxins in the blood* and helps to strengthen and cleanse the liver.*
Turmeric is a powerful antioxidant* and cleanser* that safeguards the liver from by- products and waste compounds.
Artichoke also supports liver health* and aids in the production of bile*.
The addition of amino acids provides a source of protein that is essential to the liver. L-Methionine, Choline, Inositol and Taurine help with liver detoxification,* by flushing out metabolic waste from the liver.* It also helps to support liver cells,* and reduces the accumulation of fatty liver.*

Ingredients

SUPPLEMENT FACTS
Serving Size: 4 Tablets
Servings Per Container: 15
Amount per serving size (Average)
% Daily Value
Milk Thistle (seed)
1000mg
*
Dandelion (root)
400mg
*
Berberry (root)
400mg
*
Turmeric
400mg
*
Artichoke
400mg
*
L-Methionine (free form)
400mg
*
Choline (as choline citrate)
400mg
*
Inositol
400mg
*
Taurine
400mg
*
+Daily value not established.

Other Ingredients: Di-basic calcium phosphate, Microcrystalline

cellulose, Vegetable Stearic acid,Vegetable Magnesium Stearate,

Food glaze, Acacia.

LiverVital™ is manufactured following GMP standards.

Free from yeast, gluten, corn, starch, wheat, nut, lactose, soy, dairy.

No added sugar or salt.

Suitable for vegetarians.
There are no reviews, yet! If you've tried this item, share your experience.


Only registered customers can review items. Please sign in to review!
Please register/login first.