Glass Fire Cup #3 - Medium, 2.2'' (Finger Grips)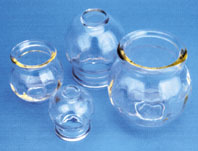 Glass Fire Cup #3 - Medium, 2.2'' (Finger Grips)
| | |
| --- | --- |
| SKU | OS173-G |
| Unit Size | 2.2'' exterior opening |
| English name | Fire Cup 3 - Medium (Finger Grips) |
Description

2.2'' exterior opening

Full size flat top for safely resting cup after cleaning. Glass cups for use with traditional Chinese fire cupping techniques. Heat or fire from a candle, disposable lighter, or burning cotton/alcohol ball held inside the cup and then removed is customarily used to create the vacuum.
There are no reviews, yet! If you've tried this item, share your experience.


Only registered customers can review items. Please sign in to review!
Please register/login first.