CurcumaSorb (Meriva)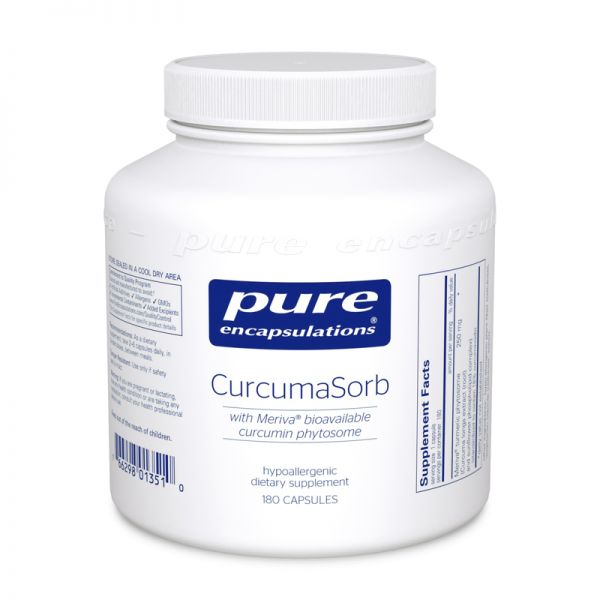 CurcumaSorb (Meriva)
| | |
| --- | --- |
| SKU | P262D |
| Brand | Pure Encapsulations |
| Unit Size | 180 vegetable capsules |
| Dosage | 2 capsules, 1-3 times daily, between meals. |
| English name | CurcumaSorb |
Description

CurcumaSorb provides the patented Meriva® curcumin-phosphatidylcholine complex for enhanced-absorption and bioavailability. The proprietary phytosome technology combines curcumin and phosphatidylcholine at a 1:2 ratio, promoting resistance to degradation in the digestive tract and efficient absorption across membranes. This produces significantly higher peak plasma concentrations and larger area under concentration-time curves (AUC). In a single-dose pharmacokinetic animal study, plasma curcumin levels were 20-fold greater with Meriva® than standard curcumin. A preliminary human pharmacokinetic study demonstrated that elevations in plasma curcumin from 450 mg Meriva® were similar to values obtained from 4,000 mg of a standard curcumin extract. The efficacy of a low dose was demonstrated in a three-month clinical trial, in which 200 mg curcuminoids from Meriva® per day provided significant benefit in joint comfort, mobility and quality of life.*

Supports skeletal, digestive and cardiovascular health*
Clinically studied for enhanced absorption*
Made with vegan ingredients

CurcumaSorb is the easily absorbed form of curcumin to help provide maximum support for musculoskeletal, digestive, liver, brain, cellular and cardiovascular health.*

Certified Gluten-Free by the Gluten-Free Certification Organization

Ingredients

Supplement Facts

Amount Per Serving

two (size 00) vegetarian capsules contain:

Meriva® turmeric phytosome - 500 mg

(Curcuma longa extract (root) and sunflower phospholipid complex)
(standardized to contain 18% curcuminoids)

other ingredients: hypoallergenic plant fiber (cellulose), vegetarian capsule (cellulose, water)

Meriva® is a trademark of Indena S.p.A.

Phytosome More Bioavailable® is a trademark of Indena S.p.A.
There are no reviews, yet! If you've tried this item, share your experience.


Only registered customers can review items. Please sign in to review!
Please register/login first.