Astra Essence, 90 Caps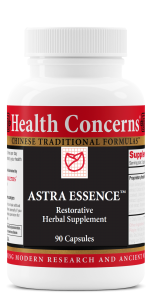 Astra Essence, 90 Caps
SKU
HC110
Brand
Health Concerns
Unit Size
90 capsules, 650 mg, 45 day supply
Dosage
3 tablets, 2 or 3 times per day
Potency
not disclosed - unknown
Chinese Symptomology
Tonifies kidney essence (Jing), Tonifies kidney Yin and Yang, Tonifies Qi and Blood
Recommendations

Health Concerns Clinical Handbook PDF

Note: Health Concerns is converting all formulas from tablets to capsules. Our inventory will reflect both until the conversion is complete.

Chinese name
Zuo Gui Wan/You Gui Yin
English name
Astra Essence (Restorative Herbal Supplement), 90 capsules
Description

Astra Essence maintains vitality and promotes longevity. The formula is a combination of tonic herbs to nourish essence and astringent herbs to prevent loss of essence. Emphasis is placed on balanced kidney tonification. Essence tonics are taken in order to slow aging and to prevent deterioration of body functions for those who are under constant stress. The formula is useful in our society where many show signs of premature aging or kidney deficiency from fast-paced lifestyles.*

Ingredients

Huang Qi (Astragalus root)

Nu Zhen Zi (Ligustrum fruit)

He Shou Wu & Shou Wu Teng (He Shou Wu Stem Extract & He Shou Wu Root)

Gou Qi Zi (Lycium fruit)

Sheng Di Huang (Rehmannia (raw) root extract)

Du Zhong (Eucommia bark extract)

Ren Shen (Ginseng Root)

Dang Gui (Tang Kuei root)

Shan Zhu Yu (Cornus fruit extract)

Other Ingredients: Silicon Dioxide, Stearic Acid, Cellulose, Sweet Potato.
---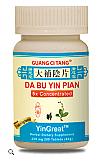 ---
There are no reviews, yet! If you've tried this item, share your experience.


Only registered customers can review items. Please sign in to review!
Please register/login first.