TAG»
High Omega-3 Boosts Vitamin A Effect in Retinitis Pigmentosa
Janis C. Kelly
February 13, 2012 — Eating oily fish such as salmon 2 or 3 times a week can improve the efficacy of daily vitamin A palmitate (15,000 IU/day) for delaying vision loss in patients with retinitis pigmentosa (RP), according to an article published online February 13 in the Archives of Ophthalmology.
Eliot L. Berson, MD, from the Berman-Gund Laboratory for the Study of Retinal Degenerations, Harvard Medical School, Massachusetts Eye and Ear Infirmary, Boston, and colleagues report that in patients with RP who have long-chain omega-3 intake averaging at least 0.20 g/day, annual distance visual acuity declined 40% slower and central visual field sensitivity declined almost 50% slower than in patients with a diet low in those fatty acids. All of the patients were also taking 15,000 IU vitamin A/day.
DHA Helps Rods Send Vitamin A to Cones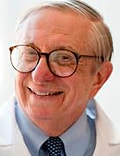 Dr. Eliot L. Berson
Dr. Berson told Medscape Medical News, "It is well known that if the retina does not have sufficient vitamin A, it will die. We and others have suggested that under daylight conditions, rods give cones vitamin A via Müller cells. Interphotoreceptor retinoid binding protein (IRBP) transports vitamin A between these cells. Release of vitamin A from IRBP requires docosahexaenoic acid (DHA), which is present in oily fish.
"Think of the IRBP as the [delivery] truck that delivers the vitamin A from the rods to the cones, and that truck needs oil. Rod degeneration leads to deficiencies of vitamin A and of DHA. This could explain why vitamin A plus an oily fish diet benefits patients with RP [more than vitamin A alone]. Patients are advised to take vitamin A to replace their rods and to eat oily fish to enhance delivery of vitamin A to cones."
RP afflicts about 1 in 4000 people, typically resulting in night blindness in adolescence, loss of peripheral vision in young adulthood, tunnel vision as the disease worsens, and virtual blindness by the time a patient turns 60 years old.
Study Pools Data From 3 Trials
Dr. Berson and colleagues conducted 3 major studies involving vitamin A and RP. He told Medscape Medical News that a subgroup analysis for one of those trials suggested that higher levels of DHA measured in erythrocyte cell membranes correlated with better protection from the vitamin A taken. In the current study, the researchers pooled data from these 3 prior trials and analyzed dietary questionnaires to see whether changes in RP progression in response to vitamin A supplementation varied depending on the patient's omega-3 intake.
The 3 clinical trials enrolled patients with typical RP from 1984 to 1991, 1996 to 2001, and 2003 to 2008. A total of 357 patients were included in the current study; all were taking vitamin A palmitate (15,000 IU/day).
"I want to emphasize that this is vitamin A palmitate, not what is often called vitamin A in over-the-counter vitamins, which is beta-carotene," Dr. Berson said. "Also, I know that clinicians often worry about toxicity from the 15,000 IU/day dose. In RP patients with normal liver function, we have seen no toxicity after up to 25 years of continual use. However, it is important to remember that women who are pregnant or planning to become pregnant should not take vitamin A palmitate in any dose due to the risk of fetal toxicity."
According to the researchers, a patient with RP who starts receiving vitamin A by age 35 years and eats an omega-3-rich diet (ie, 1 – 2 three-ounce servings of oily fish/week) would be expected to push back to age 79 years the Early Treatment Diabetic Retinopathy Study (ETDRS) acuity decline from 50 letters (equivalent to 20/30 on the Snellen chart) to 24 letters (equivalent to 20/100 on the Snellen chart) that otherwise would be expected by age 61 years.
"Therefore, the treatment regimen of vitamin A combined with an ω-3–rich diet (≥0.20 g/d) should make it possible for many patients with typical retinitis pigmentosa to retain both visual acuity and central visual field for most of their lives," the researchers conclude.
Neuroprotectin D1 Might Also Play a Role
Nicolas G. Bazan, MD, PhD, reviewed the study for Medscape Medical News. Dr. Bazan holds the Ernest C. and Yvette C. Villere Endowed Chair of Retinal Degenerations and is professor of ophthalmology, biochemistry and molecular biology, and neurology at the Louisiana State University Health Sciences Center in New Orleans.
"This seems a very well-designed and -executed study. Dr. Berson has led in this area of RP research," Dr. Bazan said.
He also suggested another possible mechanism of action. "One possible mechanism is that, as a result of high DHA intake, there is increased availability of DHA for neuroprotectin D1 synthesis in the [retinal pigment epithelium (RPE)] and other retinal cells. [Neuroprotectin D1] is the first (D1) bioactive lipid derived from DHA that we identified under conditions of incoming damage. It is an endogenous protective mediator formed to sustain homeostasis in the RPE/photoreceptors and in brain cells."
He continued, "DHA belongs to the omega-3 essential fatty acid family and is concentrated and avidly retained in the photoreceptors. It is the precursor of the potent prohomeostatic regulator neuroprotectin D1. Yet our diet during the last several decades has a remarkable shortage in omega-3 fatty acids."
Retina specialist Giuseppe Querques, MD, from Creteil University Eye Clinic in France, agreed. "I am quite completely convinced by [the] Berson et al data. Sure, there are all limitations of a retrospective analysis based on questionnaires. Of note, they present a review of 3 randomized trials where all patients were receiving vitamin A, and the intake of omega-3 was calculated from the responses to food questionnaires."
Omega-3 Also Helpful Against Macular Degeneration
Eileen E. Birch, PhD, director of the Pediatric Eye Research Laboratory at the Retina Foundation of the Southwest and adjunct professor of ophthalmology, University of Texas Southwestern Medical Center, Dallas, said, "The association between dietary omega-3 intake and rate of progression in retinitis pigmentosa are intriguing. The study conclusion is based on an analysis of aggregated data from some groups of patients who participated in 3 earlier randomized clinical trials (RCTs) of vitamin A supplementation. However, because this is an observational analytical study based on aggregated secondary data, it can provide only weak empirical evidence. Nonetheless, the preliminary evidence could be used to guide hypothesis for a future RCT."
Dr. Birch added, "Natural dietary sources of omega-3 fatty acid (salmon, tuna, and mackerel) provide DHA and EPA, while many omega-3 supplemented foods on the market today do not. The Berson et al study suggests that there may be a benefit of dietary intake of DHA- and EPA-rich foods for patients with retinitis pigmentosa. The National Eye Institute–sponsored Age-Related Eye Disease Study Research Group recently reported that there is also an association between dietary omega-3 intake and progression of age-related macular degeneration. They concluded that, although an RCT is needed for definitive conclusions, dietary omega-3 intake is an easily modifiable factor that may influence the progression of retinal disease."
John Paul SanGiovanni, ScD, is a staff scientist in the Clinical Trials Branch of the National Eye Institute and serves on central scientific leadership and administrative committees for the Age-Related Eye Disease Study 2, a 4000-person clinical trial on omega-3 long-chain polyunsaturated fatty acids (LCPUFAs) for advanced age-related macular degeneration. In an interview with Medscape Medical News, Dr. SanGiovanni said, "The report presents useful event rates and suggests that a seemingly safe dietary intervention of foods rich in omega-3 LCPUFAs can attenuate the rate of vision loss in adults with retinitis pigmentosa receiving vitamin A, 15,000 IU/d."
Dr. SanGiovanni also noted that the absolute difference in the average rate of acuity loss between the groups with vs without high omega-3 intake was about 0.5 ETDRS chart letters per year.
"A 0.5-letter variation is well within the level of measurement error and natural (within-subject) variation in performance on the ETDRS acuity protocol. It would be helpful to know more about measurement properties of the ETDRS within the lab examining the study participants. Assuming the reported progression rates for acuity loss are accurate, we would expect an average 10-letter loss (2 chart lines, 0.5 log units) across each decade in cohorts reporting intakes of omega-3 [LCPUFAs] < 200 mg/d. The FDA has used a 15-letter (3 chart lines) acuity loss as a clinically meaningful measure of efficacy in drug studies," Dr. SanGiovanni said.
How to Help Patients Sustain Compliance
Dr. Berson told Medscape Medical News that for patients with RP who have normal liver function, his basic recommendation is vitamin A 15,000 IU/day and 2 to 3 servings of salmon or other oily fish each week. "If a patient cannot eat oily fish, we advise 1 Neuromins DHA 200 mg gelcap per day," he said. He warned that patients should be advised to check the DHA concentration before taking products that are just called "omega-3″ supplements, as many contain relatively little DHA.
Maintaining compliance for many decades remains a clinical challenge. Dr. Berson said that he has found that explaining to patients why both vitamin A and omega-3 are needed can improve compliance. "Everyone can understand the analogy of omega-3 as the delivery truck helping bring vitamin A from the rods to the cones," he said. "They quickly grasp that vitamin A helps replace their rods, and eating oily fish helps delivery of vitamin A from the rods to cones."
The authors and commentators have disclosed no relevant financial relationships.
Arch Ophthalmol. Published online February 13, 2012. Abstract